Say goodbye to the ThinkHealthBC.ca site which was suddenly closed, shut-down, deleted and removed from the internet. The BC Ministry of Health's open public forum on healthcare is not only gone, it's as if it never existed... Harry Potter magic-cloak-style.
Our very own web team has suggested to us that wizard-like actions may have been taken to ensure the content would no longer be accessible online. Is the government preparing another report? Maybe. But why remove the content?
Strangely, even the slightest mention that such a site ever existed appears to be missing from the govTogetherBC website, which is where users are auto-forwarded when they try to access the few remaining dead links on Google.
As if that weren't enough, the Twitter account handle @ThinkHealthBC has been deactivated and all history hidden. What is going on here? Do they really need to hide their previously public dialogue with citizens? In doing so, whether intentional or not, the voices of Canadian patients are being silenced.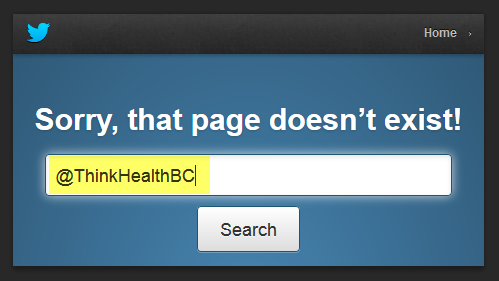 Our original plan here at the Charter Health Project was to send patients over to ThinkHealthBC.ca to voice their concerns. Thankfully this did not happen, as our supporters' voices would have been swept away along with the others which have been lost to date.
On the upside, following the deletion of ThinkHealthBC, we have taken steps to offer a voice to at least some of you. For the time being we are focused specifically on shortening waiting lists and improving access to healthcare, however, we are calling upon all Canadians, not just British Columbians. If your story is related to this topic, please submit your story here. For all you others out there, we mourn the loss of your voice, and can only wonder why the Ministry of Health has done this. Do you have any ideas?